My Favourite Cookware, Utensils, Equipment, Tools, Appliances and Gadgets
After many years of working as a chef I have decided to share my favourite bits of kit and am going to help you to improve the quality of tools that you are using in your current kitchen. Lucky enough for you I know what is worth buying and what you shouldn't bother waisting your money on. Stocking up on high quality kitchen equipment can be rather expensive, however I prefer using equipment that is quality and will last for many years when handled properly rather than  buying something cheap that will just end up in the bin within a few months, so it makes sense to buy the good stuff straight away, doesn't it?
After years of refining my cooking techniques, creating and testing recipes, making food for busy restaurants and cooking for the masses in hotels, I learned exactly which tools one needs to stock a fully functional kitchen. I have also mentioned items that will be suitable for a minimalist kitchen.
Preparation Tools & Essentials

Cooking Tools and Kitchen Utensils

Cooking Tools & Kitchen Utensils

Appliances

Other Kitchen Essentials
Preparation Tools & Essentials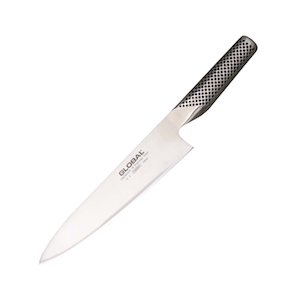 Professional chefs knives are sharper, heavier, and easier it was to cut and chop with the quality knife.
A Chef's knife will serve most of your cutting needs. You will use it almost every time you cook. This one high-quality purchase will serve you for many years.
Chef's Knife (Budget)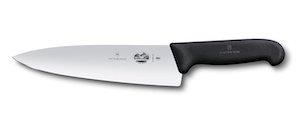 You cannot go wrong with this Victorinox Chef's knife. This knife is much cheaper than the Global (a steal if you ask me). Every professional chef owns at least one Victorinox knife which speaks magnitudes. I always recommend a set of Victorinox knives to trainee chefs as a great starter kit.

A paring knife is a kitchen knife with a short blade that can be used for a multitude of tasks. You can peel and chop with it, and the small tip is great for fine work like coring strawberries (or similar).
The Global 10cm paring knife is a Japanese made knife. It is of the highest quality. This workhorse of a knife deserves a spot in your kitchen.
For a much cheaper alternative, the Victorinox paring knife is a great buy.

This high quality Japanese constructed bread knife can also be used for slicing delicate items like cakes or pastry's.

The cheaper, yet still high quality alternative  is the Victorinox 21cm bread knife.
Wustof Extra Fine Diamond Sharpening Steel, 26 cm
The Wustof Diamond Sharpening Steel is a brilliant piece of kit. It will keep your knives razor sharp. I didn't realise how badly worn my old steel was until I replaced it with this one, this takes half the time to do a better job.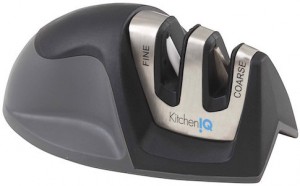 You really can't go wrong with this sharpener. I recommend you purchase it even if you hadn't planned on purchasing a sharpener. I have a few sharpening steels and this is grate for sharpening your knives and scissors at home. It's cheap and effective and great for getting the edge back on your knife.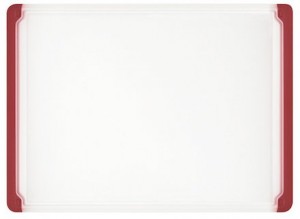 A good chopping board is to go with your Chef's knife. It's important to choose one that is durable and well designed.
The OXO good grips cutting board is dishwasher safe and built from odor-resistant polypropylene – meaning it will last a long time. You will not regret this inexpensive cutting board.
This is the Ferrari of cutting boards. The Proteak edge grain cutting board is of a much higher quality. Upgrading to a cutting board like this will bring a smile to your face every time you use it. You have to take much better care of this cutting board than the plastic recommendation as you need to clean it immediately after use and don't even think about putting it in the dishwasher. This board will last you a long time, so if you're ready for an upgrade from the usual plastic cutting boards or those horrible glass ones that destroy knives then this is a superior choice.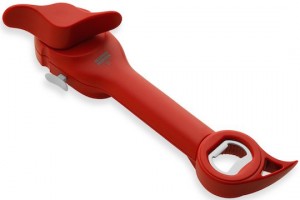 This 5-in-1 can opener from Kuhn Rikon pulls tabs, crowns caps, unscrews tops, and opens jar lids and cans safely, easily, and cleanly. You will not regret this beaut of a multi tool.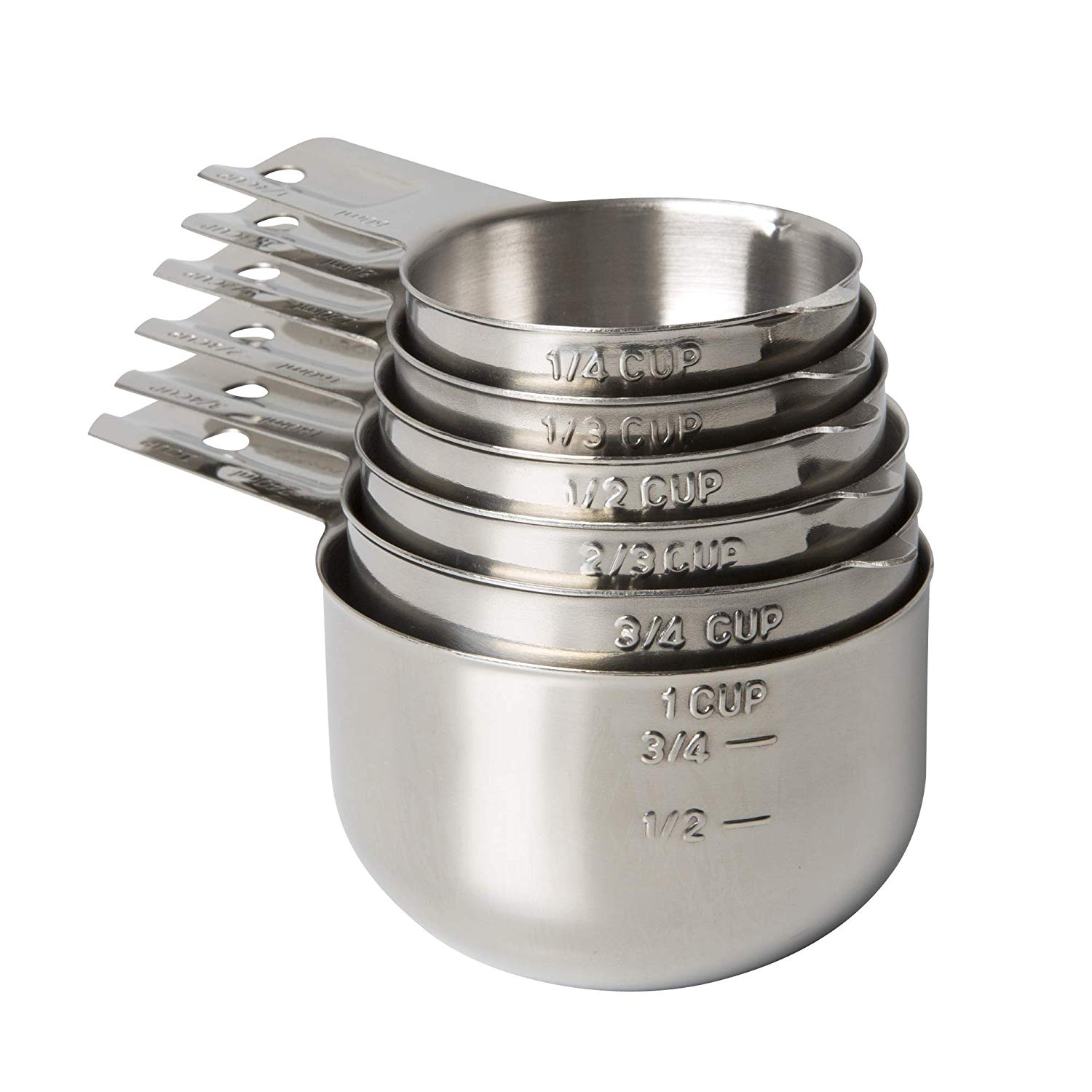 This stackable set of measuring cups from Kitchenmade has all sorts of smart features that eliminates the small frustrations that measuring cups often bring about. With high quality one-piece stainless steel construction, a thin profile and pouring lip, nesting capabilities, and a 5 star rating over 1,000 reviews on Amazon, you can't beat the quality of these measuring cups. You will never replace your measuring cups again after getting these bad boys.
Measuring Spoons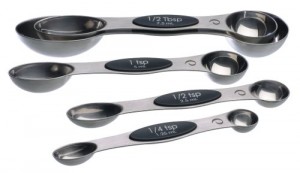 This set of 5 stainless steel measuring spoons from Prepworks contains measurements of ¼ tsp all the way up to 1 tbsp. They're magnetic and nested so you can put them away easily without losing any of them. The double sided design accommodates both liquids and solids and they are completely dishwasher safe. After testing different measuring spoons I highly recommend these ones
Mixing Bowls
These pyrex glass mixing bowls can be used to mix pretty much anything and they won't absorb stains and odours because they are made out of glass. They also are easy to stack away, saving you space.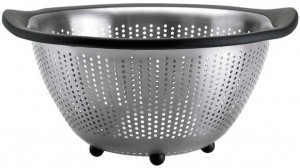 For draining pasta or washing vegetables and salad greens, a colander is an essential piece for your minimalist kitchen. This colander is well designed and has ergonomic non-slip handles and "feet" so it doesn't slip all over the place.
A good quality vegetable peeler can really speed up your preparation time, whether you're using it to peel potatoes, carrots, or any other vegetables.
This high quality peeler will stand the test of time and be your life saver for Sunday roast. I discovered this peeler through my mother in law and I can assure you it is the one of the best and for the price, it is a steel. This peeler is dishwasher safe, ergonomically designed and a must have for any cooking enthusiasts.

Potato mashers are great tools, but, they are usually bulky, making closing your drawer difficult. However this potato masher "flips", which means that it's not bulky like most potato mashers. Its high quality stainless steel (with no BPA) and is dishwasher safe for easy cleaning.
A whisk is often one of the most used items in your kitchen, so it's important to have a decent whisk that is going to last. This whist fits great in the hand and is perfect for whisking together salad dressings, sauces, eggs, desserts, and much more. The non-slip handle is one of the key features of this whisk.
Plus, it's dishwasher safe so you don't have to worry about the handle melting or warping in the heat.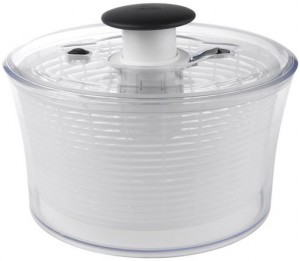 A salad spinner is your best friend when it comes to having a crisp salad. To prevent your greens from going soggy, you will need to dry them and spinning them is by far the easiest way to do it. This salad spinner's strainer basket can be used for draining pasta and the bowl for serving. It's a great multi-purpose tool!
Grater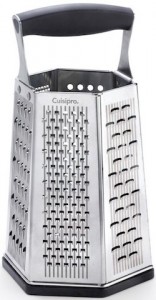 Instead of purchasing different types of graters, a zester, and a chiffonade, why not choose one tool that can do it all? This 7-in-1 box grater from Cuisipro can grate citrus, fine, coarse, ultra-coarse, parmesan, shave, slice and even has a ginger grater. It's made of high-quality stainless steel and will last a lifetime.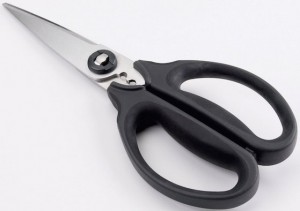 These scissors can be used for cutting up a whole chicken and other meats, to vegetables, to stripping herbs, to even cutting the stems off of flowers, these are fantastic.
They're extremely sharp, heavy duty, and comfortable. The blades separate for easy cleaning.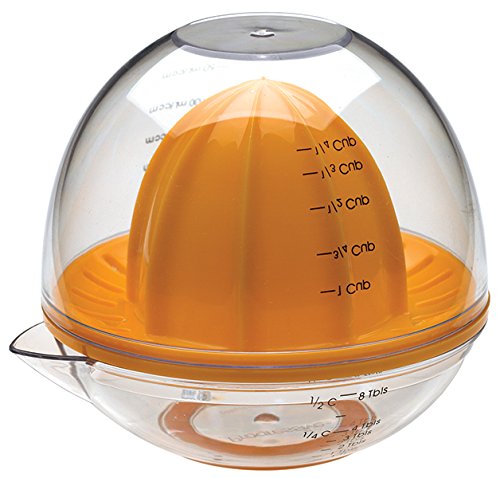 Sometimes it's the seemingly insignificant tasks in the kitchen that provide way more hassle than they should. Juicing a lemon or lime is one of those tasks! It's difficult to do, your hands get juice on them, and the seeds often fall into your food.  This one includes printed measurements so you know exactly how much juice you've squeezed. It fits lemons, limes, and oranges, and makes squeezing juice a joy. Plus, it's dirt cheap!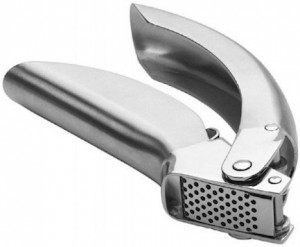 This is a garlic press for the serious garlic haters. If you don't like playing with garlic and want the quickest solution, pick up this highly rated garlic press and you'll be good to go. But if you don't mind crushing and chopping your own garlic, you may want to pass on this item.
Cookware and Bakeware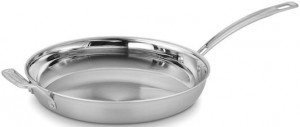 You will be using this cookware for frying, searing, sautéing, and browning, among other functions. For this reason, it's important to pick a high quality stainless steel skillet that you can use for a lifetime.
I like Cuisineart's Multiclad Pro line. Their skillet is made of high quality stainless steel and even has a "helper" handle that makes it easier to carry heavy loads without tipping. Plus, it comes at a fantastic price for the quality. Highly recommended.

All Clad's take on the stainless steel skillet is, as with all of their other products, is high quality and a joy to use.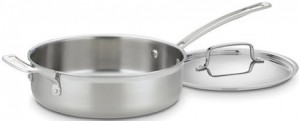 A saute pan is  wide and has a flat bottom and vertical sides that generally go up much higher than a skillet's flared sides do. This makes it easier to cook sauces and sear and braise meat than a skillet.
Cuisineart's Multiclad Pro series sauté pan is of a more superior value to the premium alternative. It won't let you down and will last a lifetime of cooking.
The All Clad's 4-quart tri-ply bonded sauté pan. Just like the other All Clad picks in this article, have been chosen because of its high quality construction. You can't go wrong with All Clad.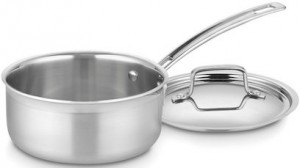 For small portion cooking of soups, stews, pastas or sauces, a lightweight and easy to handle saucepan is necessary. Cuisineart's Multiclad Pro 1 ½ quart saucepan is a great pick. This small saucepan is fantastic value and is a high quality item that will last you as long as your cooking career lasts.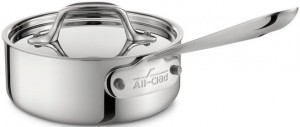 This premium small saucepan pick is All Clad's 1 quart tri-ply bonded sauce pan. Choose this small saucepan if you want the best quality cookware that money can buy.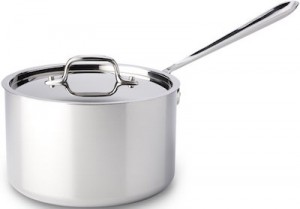 This premium medium saucepan pick has nothing but glowing reviews from its 5 star rating on Amazon.
This pan will likely be enough for all of your cooking needs.If you're interested in upgrading to the best, I highly recommend this 4-quart medium saucepan from All Clad.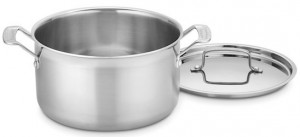 For cooking large dishes like soups, stews, pastas or sauces, you'll need a large pot to handle the volume.
When it comes to stainless steel pots and pans I am a big fan of Cuisineart's Multiclad Pro series. They're extremely durable and cook evenly, thanks to their solid stainless steel and aluminum construction. And because they're made in China, Cuisineart is able to keep costs down for a decidedly premium product.
This large pot is perfect for cooking pasta, large dishes, or even for making your own broth. It is dishwasher and oven safe (even on broil) and was designed with simple pouring in mind. Pick up this "steal of a deal" pot and relax knowing you purchased a high-quality item at a fantastic price.
Large Pot (Premium)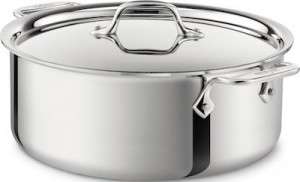 For a high-quality large pot that you simply can't go wrong purchasing All Clad. This 6 quart tri-ply bonded pot will last a lifetime and you'll never tire from using it.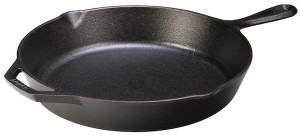 Cast iron skillets have been workhorses in kitchens all over the world for over 2,000 years. Modern cast iron skillets are made from heavy cast iron and pre-seasoned (so food doesn't stick); with impressive heat retention abilities these skillets are favoured for use on both the stovetop and oven alike.
You'll never need another cast iron skillet in your lifetime as these are insanely durable and can cook anything. This cast iron skillet is made of high-quality materials and is very reasonably priced! You can't go wrong with Lodge's 12 inch cast iron skillet.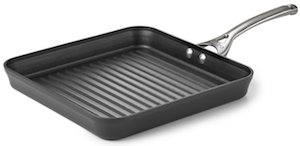 Grill pans are great for summer dishes like burgers, roasted salmon, meatballs, and marinated vegetables. a grill pan is a must. It creates tantalizing grill lines in your food, just like a barbecue, but it's much easier than barbecuing because you don't have to leave the comfort of your kitchen.
This non-stick 11-inch grill pan from Calphalon is easy to use, affordable, and a snap to clean.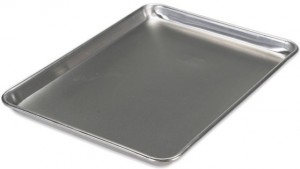 A baking sheet pan (or sheet pan, baking tray, baking sheet) is a flat, rectangular metal pan that is used for roasting and baking food in the oven. From quickly roasting cauliflower, broccoli, or squash to whipping up a tasty treat if you're inclined to bake, a high quality baking sheet pan is an essential item for a minimalist kitchen.
This 100% pure aluminum sheet pan from Nordic Ware is commercial quality and a large size – perfect for spacing out your food and getting that delicious browned effect. This sheet pan is easy to clean, lightweight, sturdy, won't bend or buckle like cheap alternatives, and will last a lifetime.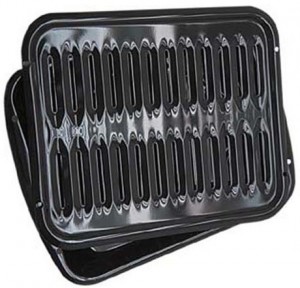 A broiler pan is a rectangular metal pan for use under the high-heat broiler in the oven. It is much thicker than a typical baking sheet pan so it doesn't warp under the high heat. It contains grooves and a draining pan that sits below to catch any fat that drips through.
Broiling is great when you want your food to get a nice brown crusty top. It can handle broiler heat (500 degrees fahrenheit or more) without warping, feels very high quality, and is something you'll never have to replace.
A stockpot is a very large pot (usually 12 quarts) that is ideal for homemade broth or large portions of soups and of course stocks. Anytime you want to make an extra large meal is also a great reason to use a stock pot. Most cooks don't tend to make their own broth so this is not an essential item for a minimalist kitchen.
The 12-quart stockpot from Cuisineart's Multiclad Pro line is fantastic value with very high quality construction, materials, and reasonable prices. You can't go wrong with this stockpot.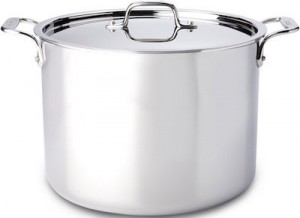 The premium pick is this 12-quart stockpot from All Clad. which comes with the high quality guarantee that covers all All Clad purchases. Once again, this is an optional option, but if you often make stock, broth, and soups, this is a great premium pick.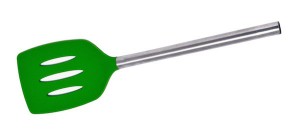 A spatula is a small cooking implement with a wide, flat, flexible blade that is used for mixing, spreading, and turning.
This spatula that is heat resistant up to 600 degrees fahrenheit and won't melt if you leave it against your pot or pan (which we've all done!).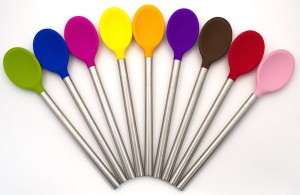 Going back to the wonderful design of Tovolo products, their stirring spoon is just as good as their slotted spatula. With their trademark stainless steel and silicon construction, it will last for a very long time and won't melt in different places (like other products do). Instead of stocking up on several spoons, choose one that is durable, heat resistant, dishwasher safe, and won't scratch cookware or pans. This stirring spoon from Tovolo will be a great addition for your kitchen!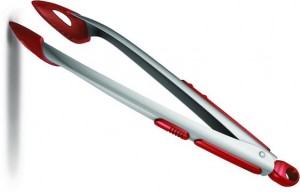 For easily flipping meats and vegetables, a good pair of tongs that can handle all kinds of different sized foods is a must. It's important for them to have silicone tips to prevent scratching and a high degree of heat-resistance so they don't melt away after frequent use. You can operate them with only one hand, and everything is a sturdy solid product.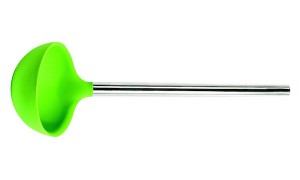 A ladle is a large, long-handled spoon. It is used for serving liquid dishes like soups, stews, or sauces. This ladle from Tovolo is strongly built with a unique combination stainless steel and silicone, which means that it won't melt if you leave it in your pot or pan or place it in the dishwasher.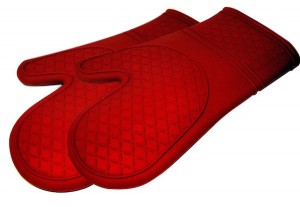 Oven mitts protect your hands from being burned when transferring hot food to and from the oven.
These oven mitts from Kitchen Elements are made of silicone with a cotton interior and are dishwasher safe and they can be cleaned very easily. Whether you choose to purchase my recommended product or pick another option, make sure you have quality oven mitts before beginning any high-heat oven cooking. A good pair of oven mitts is a must have for any kitchen.
A trivet is a heat resistant pad that you place hot dishes on, so you don't burn the table. Bambri's bamboo trivets are functional and fashionable. Instead of ugly cloth trivets that get stained easily, pick up these beautiful bamboo trivets that will last a long time and are easy to clean.
I fell in love with this coffee maker in Italy. It makes great coffee every time, so if you are a coffee lover like me then this is a must and for the price it is so worth this life long companion. If you don't want to spent loads on a fancy coffee maker then this is a great little buy.
I was given this coffee maker by some friends of mine and I must say that it really makes delicious coffee and there is something for everyone. This coffee maker can make up to 40 varieties of hold and cold drinks. It is very easy to use and clean and a variety of pods are available in supermarkets and online.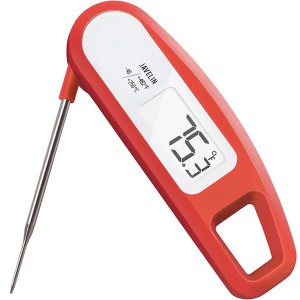 A quality meat thermometer is a must if you often cook meats and want to stop guessing when they're done. With this ultra fast and accurate thermometer, you'll have a very accurate temperature reading in just 4 seconds. If you find yourself roasting foods often in the oven and want to have continual temperature readings, I also recommend the Thermoworks ChefAlarm.
Appliances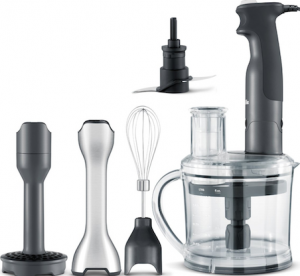 If you're looking to purchase a multi-speed all-in-one immersion blender with attachments, look no further than the Breville all-in-one processing station.
It comes with a variety of useful attachments that are all ergonomic, high quality, and very easy to clean. They turn your immersion blender into an extremely versatile tool.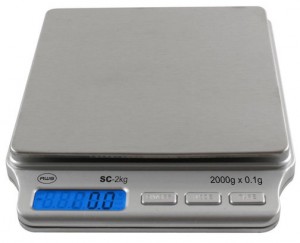 For precise measuring a small, lightweight, scale is needed. With a bright LED display, highly incremental measurements in US and metric units, and compact size, this scale is perfect for most weighing functions you'll ever need.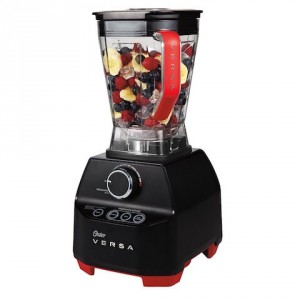 If you're a fan of making smoothies, sauces, dips, or soups, you'll likely want a powerful blender instead of using a food processor every time.
The Oster Versa blender comes in at less than ½ the price of a Vitamix (premium pick and the de facto standard for powerful blenders) and performs just as well.
This is a stylish blender with a 1,400 watt motor that pulverizes anything you can throw at it. This is a great purchase for the price, and we highly recommend it.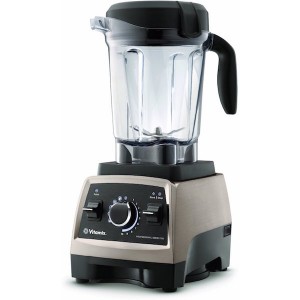 The premium pick is the Vitamix Professional series 750 blender. If you're in to blenders at all, there's not much to be said about Vitamix. They're the best, and they command a premium price.
You have likely seen Vitamix's in commercial restaurants because of their power and ease of use and cleaning. If you're looking for the best of the best, the Vitamix is a phenomenal pick.
If the recommended pick is still a bit more than you'd like to spend for a blender, then the Ninja Professional Blender is a great budget alternative. This powerful blender will do much of what its higher priced counterparts will do at a fraction of the price. It's a great buy on a budget.
This is not a kitchen essential but it is one of my favourite pieces of equipment an a must for the dedicated bakers. The Kenwood kMix comes with a dough hook, a stainless steel bowl a pasta maker, a balloon whisk and a K beater which makes it ideal for making doughs, cake mixes and so much more.
Other Kitchen Essentials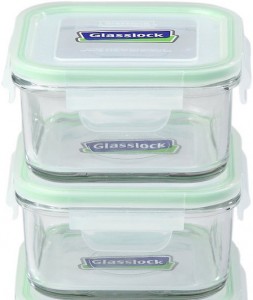 High quality food storage containers are essential for bringing lunch to work and storing ingredients (or cooked meals) in the refrigerator so they stay fresh for several days. Our recommended glass containers from Kinetic are dishwasher, microwave, refrigerator, freezer, and oven safe and are made from environmentally friendly glass (instead of plastic).
This is a set of three containers with locking lids, which is great for a single cook who plans on taking their lunch to work. If you cook for your family or significant other and need more than three, try the premium option which comes in a bigger set.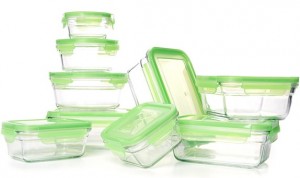 This is a 30k piece food storage container set. They are dishwasher, microwave, refrigerator, freezer, and oven safe and are made from BPA free Pyrex glass.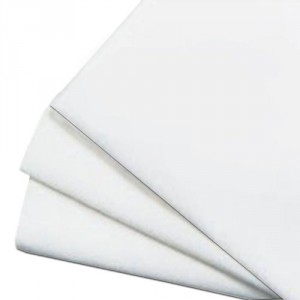 Everybody needs towels in their kitchen for drying dishes, wiping up spills, dusting, and regular cleaning. But towels aren't something most people give much thought to when stocking their own minimalist kitchen.
These flour sack towels are 100% cotton, very reasonably priced, and work exactly how kitchen towels should.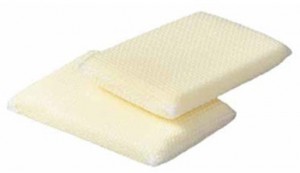 Just like with kitchen towels, when it comes to sponges most people choose one type and don't look back. Scotch-Brite's Dobie all purpose pads have just enough scouring ability that you don't need a dedicated scouring pad, but work just as well as a delicate sponge does.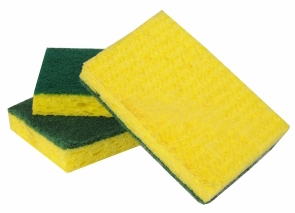 These sponges are tough and will last a many tough jobs in the kitchen. If they get smelly all you have to do is put them in the dishwasher, run a cycle, and they'll come out as good as new. For lasting quality that doesn't break apart on the tough jobs, these sponges are superb.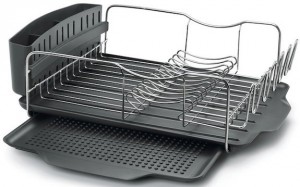 Even if you have a dishwasher you'll still need to hand wash some items or to give cookware a quick rinse. A quality dish rack is needed because you can place your dishes on the rack and have it drain the water back into the sink.
Polder's advantage dish rack comes with a typical dish rack design that we're all familiar with, and it looks stylish and works as it should.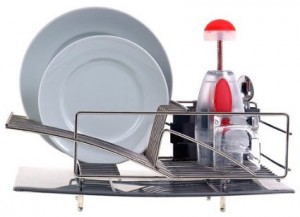 If you want to fancy your dish rack up, the Zojila Rohan dish rack is the ferrari of dish racks. It's made of brushed stainless steel and features an innovative drain system that differs from the typical design you see in most dish racks today. This product is a pricey purchase, but it has the positive reviews back it up.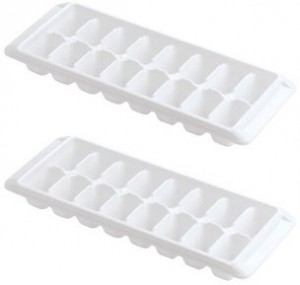 You may think that ice cube trays won't make much of a difference to your life, but if you often use ice cubes these trays will make the process a whole lot easier. Rubbermaid's ice cube trays allow you to release the cubes with a single, simple twist that will get the entire cube out. Never again do you have twist and hit your trays to get broken ice cubes out.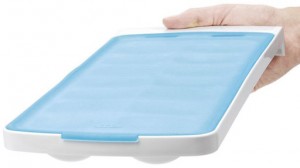 Now if you're an ice cube aficionado and want the best of the best, OXO's silicon ice cube trays are what you should buy. The silicon lid seals water into the tray before freezing which allows you to place the tray any way you like in the freezer. Popping the cubes out is an extremely simple affair.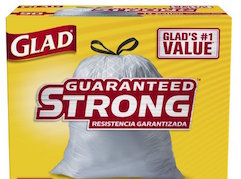 With fantastic reviews on Amazon, these large trash bags from Glad will fit your large trash bin perfectly.
These bags come in a 13-gallon size, which works well for taller trash bins that aren't stored under the sink. They also have reinforcing bands woven throughout the bag which makes them extremely tough and sturdy – a nice feature that gives peace of mind when carrying a full bag. Whether you use these bags in your busy kitchen or even in the office, you won't be disappointed.
We use these bin liners at home and I can honestly say than not one has ever broken while taking out the rubbish. I highly recommend these bin liners. They fit perfectly in my large Simplehuman Bin.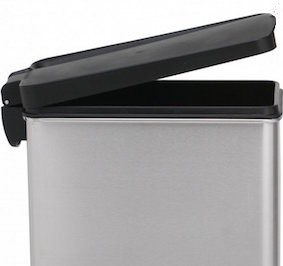 Designed for apartment dwellers using small trash bags, this stainless steel small trash bin from Simplehuman is elegantly designed, highly rated, and comes with a 5-year warranty. It has custom handles on the inside of the bin that holds grocery bags in place so they never sag when filled with trash. Even the step that opens the can is designed well – it works with a small amount of pressure and has a soft-close feature that won't make a racket when you close the lid. Overall, this is a fantastic bin for use under the sink in your kitchen or bathrooms.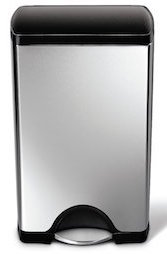 This large trash bin from Simplehuman is perfect for people who have the space for a full-sized, high-quality trash bin. This bin also comes with a 5 year warranty and will fit your large trash bags perfectly.
It comes with a steel foot pedal with a soft-close feature that makes closing the bin after use quiet and smooth (which is a nice change from those bins that close with a crash). Innovative design allows you to place the bin right up against the wall and still allow the lid to be opened. For use as a standalone bin that isn't tucked away anywhere, this large bin is a clear winner.